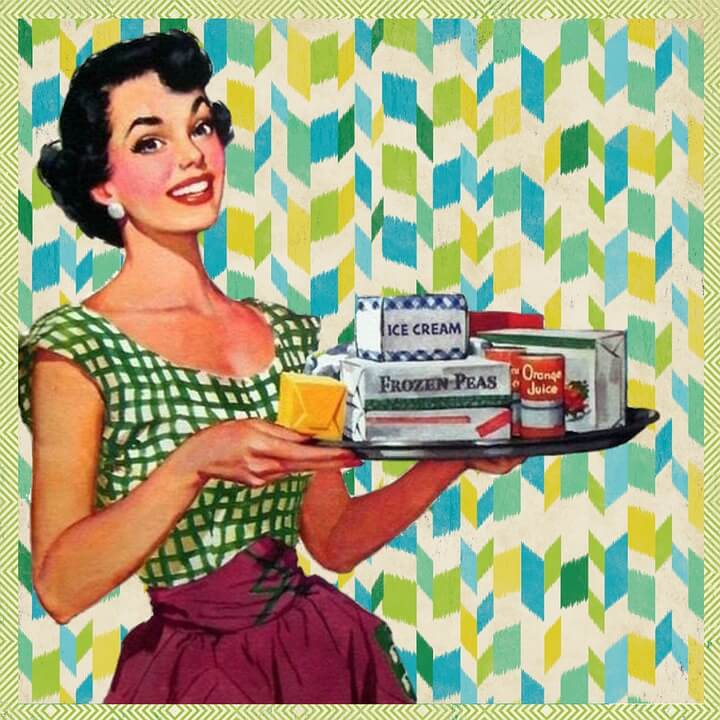 How Healthy Did We Eat?
Health consciousness throughout the 50s through to fairly recently was not what many would consider "optimal". At the start of this time period we still thought cigarettes were good for you, asbestos was the best material for insulation and "health and safety" was largely something to be scoffed at.
Despite this a lot of people actually ate much healthier than they do today; it was incredibly common to grow your own organic vegetables and/or herbs to use in cooking. Gardening allotments were used more commonly than today by a factor of about 4. Even overall calorific intake was slightly lower and energy expenditure for most people was likely a good bit higher due to the lack of modern conveniences. (Driving was not as common, automation was nowhere near as advanced as it is now and if you wanted groceries, you had to actually leave the house.)
Throughout this time period there was a plethora of fad diets that ranged from "slightly silly" to "dangerous and irresponsible".
In no particular order here are some of our favourite examples:
1. The Drinking Mans Diet
Around 1964 a gentleman with the pen name "James Cameron" wrote a book titled "The Drinking Mans Diet" – This mans pen name was subject to change several times. it went on sale for $1 (which is about $8.13 when adjusted for modern inflation in 2018). the core aim of the diet was to reduce carbohydrate intake to aid in weight loss whilst increasing your intake of low carb foods such as steaks to stunt your appetite (or as the author describes them 'man foods') this was done in conjunction with simultaneously increasing your intake in alcohol.
It effectively ran on a modern "points" system the likes of which is incredibly common in many weight loss programs found in the modern age, except instead of just low carb and calorie foods such as steaks/vegetables being counted as 0, various types of alcohol were also counted as 0.
the core focus of the guide was to enable you to drink alcohol more often without gaining weight, the little 4 by 7 inch book was 50 pages long and incredibly popular for it's time period, with the author being interviewed on television several times.
2. The Tapeworm Diet
Around the turn of the century entering the 1900's this was actually an advertised and practised diet, however several years later the popular opera singer Maria Callas lost an abundance of weight due to a tapeworm, this was widely speculated as being completely intentional.
One of the more powerful examples of how much our health consciousness has evolved as a society is definitely the fact that just 50-70 years ago people were actively infecting themselves with parasites in order to lose weight.
3. The Egg and Wine Diet
This is a more popular diet and has been exposed in various publications since it's inception, but it still felt worth mentioning, this diet was published in vogue in the 1970s and consisted almost entirely of Eggs and Wine for every single meal of the day, with the exception of dinner in which the eggs were switched out for steak.
You were allowed to drink a bottle of wine every day on this diet if you so pleased which seems counter-productive as many types of wine can actually stimulate your appetite.
This diet is another example of "unsustainable & possibly dangerous" – Alcohol is a diuretic which causes excessive urination, this urination depletes your body of a handful of important nutrients which are vital for healthy metabolic function – this is why you get a hangover when you wake up. if a diet is prescribing alcohol every single day without a reasonable plan to compensate for the lost sodium/potassium and other nutrients then it can be 100% guaranteed that every participant in the diet will suffer from some form of fatigue.
4. The Sugar Diet
A handful of sugar companies took advantage of the desire for a movie star figure during the early days of cinema and produced dietary guides that conveniently always included their own sugar. there wore more subtle approachs such as a relatively well rounded diet which makes sure to include a black coffee with a tablespoon of sugar in every meal, to the outright ridiculous suggestions involving eating literal teaspoons of sugar to fight off hunger cravings. This was largely due to the fact that we were violently unaware of how much sugar contributed towards obesity, if a sugar company attempted something like this with modern advertising standards and regulations it's a safe bet they would not be around for much longer.
5. Smoke Yourself Skinny
Whilst this was not a conventional diet and more of a general attitude, it felt worth mentioning also. This approach was particularly popular in the 1950s, some of the old advertisements for cigarettes frequently referenced the fact that smoking could make you skinnier. There is an active established science behind this – artificially raising your blood sugar levels with nicotine results in a reduced appetite, meaning that you naturally eat less. Cigarettes didn't actually burn fat or make you lose weight, they just made you less hungry. This kind of attitude towards nicotine has seen a resurgence as some modern bodybuilders use nicotine gum to assist in weight loss during a cut. Whilst this doesn't pose the same level of health risks as conventional smoking does – it still creates a tolerance and addiction to nicotine, which raises blood pressure and can leave you feeling anxious or stressed during periods of withdrawal. Not to mention it poses the risk of introducing you to actual smoking.
Summary:
A combination of relaxed advertising standards, the emergence of hollywood and a handful of other factors meant that it was incredibly easy to be mislead into falling into unhealthy compromises for the sake of weight loss, and an overall societal ignorance to the dangers of many things such as smoking resulted in a series of inconsistent and ridiculous weight loss and dietary instruction books being published. The lack of internet made it much more difficult to verify the authenticity of a diet or any of its health claims also. Anyone who wishes to achieve a great body should count themselves lucky to live in the information age.
Disclaimer: This information was gathered to illustrate the changes in attitude towards diet and well being in the last 70 years and not a single one of these diets is recommended to be attempted if you're aiming for an ideal figure. we offer a selection of guides which can teach you to approach losing weight in a safe, conventional manner if this is your goal.