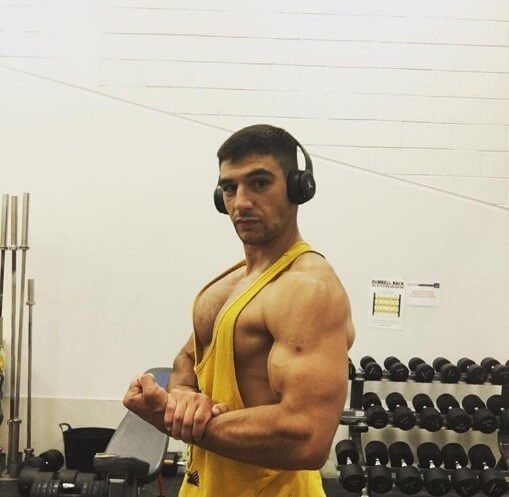 Carl Muscat
Biomedical Engineer, Personal Trainer & Bodybuilder
Name: Carl Muscat
Age: 26
Nationality: Maltese
Sporting History: International Shotokan Karate (WKF) competitor, Scottish Senior Kumite Champion -75kg 2015, Scottish Senior Team Champion 2015, Malta National Karate Squad for the Small States Games 2016, Men's Physique competitor
SAS Favorite Supplements: Diet Whey, Unleashed Extreme pre-workout, BCAA tablets
Favorite Exercises: Pull-ups, Squats
Carl Muscat, was born in the Republic of Malta in January 1992. As a kid, Carl was never aware of healthy lifestyle eating and he did not do any kind of sports.  At the age of 13 he was obese and used to weigh around 90kg. At that point in his life, he decided to start doing karate as a form of stress relief.  This ended up in him becoming more passionate about fitness, an active lifestyle and healthy eating habits.  Eventually all these changes led to him being able to represent his country on an international level in the sport of Karate.
At the age of 22, he left his country to pursue an MSc. in his Biomedical Engineering career.  This also led to him starting to train with Yamakai Karate Club in Scotland and with the assistance of the excellent coaches there winning Scottish national title in the seniors -75kg division and team section in 2015.
In 2017 he started to develop a passion for natural bodybuilding and decided to focus more on this sport.  This eventually led to him also obtaining a diploma in personal training while getting sponsored by Physiq Apparel who provide him with training outfits and SAS nutrition who provides him with supplements and vitamins in 2018.  He is currently preparing for his IFBB men's physique debut in Malta which will be held in April 2019.
Carl is very passionate when it comes to training, a healthy lifestyle and helping others live a healthier way of life whilst achieving their full potential.  He believes that with determination and sicipling, one can obtain whatever they want as long as they put in the work and do not take shortcuts.
Check out the store!
Get the supplements you need.